Schroon Lake Association
Protecting the Lake Since 1911
WELCOME WINTER AND 2018!!
For 106 years the Schroon Lake Association has helped to protect the waters we all love. We are writing to Members and Non-Members alike to ask for your help this year by either renewing your membership or joining the SLA and contributing to our organization. The work of the Schroon Lake Association is supported by membership dues, donations and the proceeds from our annual Arts & Crafts Fair and the Hornbeck Boat raffle.
In 2017 the SLA performed a number of incredibly important lake management activities. Six of the most impactful activities were:
New Boat Decontamination Station: Joining with the PLA and ESSLA to provide the Town of Schroon with a Northern Boat Decontamination which will more completely protect boats entering northern Schroon Lake and Paradox Lake.

Water Quality Analysis - in the north and south basins as well as the lake's outlet and most of the tributaries. The final report will include data from the Citizens Statewide Lake Assessment Program in which SLA volunteers participate in a lake monitoring program in partnership with the NYSDEC and the NYS Federation of Lake Associations

Phytoplankton Sampling – of this primary food source for many aquatic species from both the north and south lake basin will be obtained in order to update the 20+ year old database and give us a long-term view of the health of our lake

Zooplankton Sampling – information on these microscopic crustaceans which inhabit lakes, ponds and rivers will also be obtained from the north and south basins rounding out the overall health of the Schroon Lake watershed

Invasives Inspections - in order to monitor suspect areas of the lake for invasives, the SLA privately contracts with 2 representatives from Warren County Soil and Water to perform recon

Lake Stewards – the SLA and the Town of Schroon share in the expenses of having lake stewards at the Town's boat launch. These stewards not only inspect boats for invasives, but also hand out educational materials to educate boaters on how to keep our lake pristine

In the coming weeks we will be laying out our plans for 2018 and beyond.

If you have any questions, would like to volunteer for any of our activities, would like to become a director of the SLA or if you find anything in the lake that might be an invasive species please contact the SLA at www.SchroonLakeAssociation.com . Thank you for your time, donations and continued membership that support the Lake we all love!

Please note the following dates for 2018: Hobie Cat Regatta – June 15-17; Joint Educational Program: WHAT'S GOING INTO MY WATERSHED?- July 6; 49th Arts & Crafts Fair – July 21; the annual State of the Lake Meeting – August 17
We can always use more volunteer help for our fund raising efforts!
We have meetings and presentations already scheduled throughout the year, as well as fun events. Please check our calendar and upcoming Lake Trout Telegrams!
ABOUT THE SCHROON LAKE ASSOCIATION
Founded in 1911, the Schroon Lake Association successfully blocked the flooding of the entire Schroon Lake Valley. Since that time we have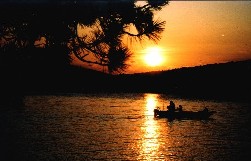 worked to protect and support the area. Our volunteers have raised funds to pay for scientific studies of the lake waters, to support community projects and to disseminate educational information. Our work is supported by annual dues and donations and by profits from the Arts and Crafts Fair which our members have put on every summer in the third week of July for the last 48 years.
We spearheaded the effort to develop the Lake Management Master Plan which will guide future efforts to protect the lake. That stewardship is vitally important to the future of all of us who live, work and play in this beautiful area. We support Lake Stewards at Boat Launch Stations, decontaminating stations and professional surveillance on our watershed for invasive species. We provide and pay for expert water sampling and analysis to keep track of the quality and character of our watershed. We add this information to an archive of 30 years of lake study. We work hand in hand with local and state government as well as other NGO's to preserve the quality of Schroon Lake and surroundings. We hold informational meetings to increase public awareness of the issues facing our watershed and solutions to those issues.
Attend one of our General Meetings this summer or join us in celebrating over 105 years of successful lake stewardship.
What Can I Do To Help?
We are always seeking help with Volunteers, new Members, and Fundraising activities. Please visit these pages to see what YOU can do to help!