Arts & Crafts Fair
Craft Fair Exhibitor Information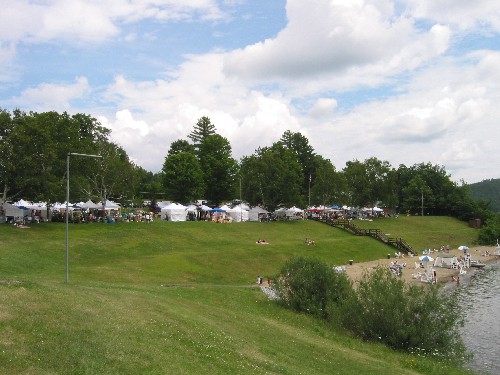 Arts & Crafts Fair and Schroon Beach
View from Dock Street, near launch ramp
Booth space for the Arts and Crafts fair is available to vendors for $50 for a space approximately 10' x 12'. Shown above is a photo displaying the section of vendor booths set up between Leland Avenue and the Schroon Lake Town Beach. As you can see from the miniature version of a site map at the bottom of the page, this is only a partial view of all the booths at one of our Fairs, showing primarily the first row of booths above the beach. Please note that applications for space received after June 1st will cost an additional $25 and after July 1st will cost an additional $50. So be sure to get your application in early!!
If you are interested in renting space for the Arts & Crafts Fair, please download and print the form below. For an application for booth rental space, or to donate items for the Silent Auction, please download the form below. This may be printed, filled out, and mailed to the address on the form.
Fair Application For Exhibitors
Click the link above to download the Fair Application for Exhibitors. This form is in pdf format. If you would prefer to receive a copy in another format, please contact kbgranger@gmail.com or 518-585-6283.
How Do I Get There?
Please note: Clicking on this link will take you out of our website. To return here after viewing the map, just hit the "back" button on your browser.